Norwood Scale 6-7 Hair Transplantation, during the hair transplantation process, the situation is handled in a controlled manner by using certain scales. One of these markers is the Hamilton-Norwood Scale. This scale provides the degree of baldness of an individual in male pattern baldness from 1 to 7. Scale's first owner, Dr. James Hamilton made its preparation in 1975. Later Dr. The scale was redeveloped by O'Tar Norwood. For this reason, the name of the scale is called Hamilton-Norwood Scale or Norwood Scale today.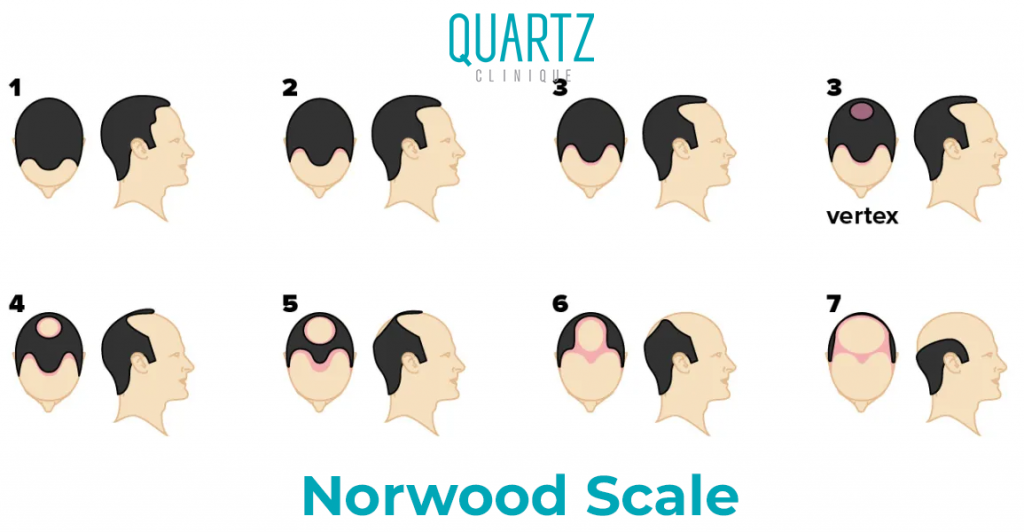 What Is Hamilton-Norwood Scale?
Norwood Scale, which has been approved as the standard hair loss classification system, is used as a planning tool during the hair transplant procedure. It has become a necessity to determine a certain procedure over time for the problem of baldness, which can be seen in different forms. Hamilton – Norwood Scale serves this purpose. Thanks to this scale, it is possible to document individuals with male pattern baldness in accordance with medical standards. When treatment is started using this scale, the procedure is completed in a much shorter time and is easier to apply.
How Many Grafts Do I Need?
Male pattern hair loss starts from the front of the head. Later, hair loss spreads to different areas and the scalp, where baldness occurs, begins to appear. This common condition is mostly due to advanced age and genetic factors. It can also take happen due to external factors. Since it is a common problem today, hair transplantation treatment has emerged as a permanent solution for individuals with male pattern baldness.
Male pattern hair loss is a problem that many adult men, rarely women, experience. When this type of hair loss is observed, it has been observed that certain typical stages are experienced over time. Each of these stages has been examined in more detail and a rating has been given to each. This rating system is the Norwood Scale. Thanks to this scale, since the degree of baldness of individuals is determined in advance, it is also determined how many grafts they need.
Determining How Many Grafts Are Needed with the Norwood Scale
Approximate number of grafts needed according to Norwood Scale grades:
Norwood 1 (0 – 1000 Grafts)
Norwood 2 (1000 – 1500 Grafts)
Norwood 3 (2000 Grafts)
Norwood 4 (3000 – 3500 Grafts)
Norwood 5 (3500 – 4500 Grafts)
Norwood 6 (4500 – 6000 Grafts)
Norwood 7 (7000+ Grafts)
FAQ
What is Your Hair Loss Level?
In order to determine the level of individuals with hair loss problems according to the Norwood scale, their hair should be examined by a physician in a clinical setting. According to this scale, the number of grafts required varies between 1000 and 7000 grafts. As the number of grafts to be applied increases, the duration of the procedure is also longer.
What Should You Expect From Hair Transplantation?
Hair transplant results truly satisfy individuals. Thanks to the completely permanent results, the individual has bushy, healthy, shiny and natural hair.
After the healing process is over, the transplanted hair follicles grow longer, can be cut, and all hairdressing procedures can be performed, just like natural hair.
In addition, individuals continue to use their new hair for life by paying attention to a healthy diet, protecting hair health. It should not be forgotten that vitamin B7 (biotin) is very important for hair health.
Surgical Design On Norwood 6-7 Degree Hair Loss?
After controlling an individual according to the Norwood scale, it is determined at what level the problem is experienced. Generally, there is sufficient donor area in individuals up to the 5th degree. However, sufficient donor hair follicles cannot be found in an individual with 6 and 7 levels of baldness. In this case, the individual can be transplanted with stem cells. Thanks to stem cells, a large number of hair follicles can be produced in the laboratory. When the sufficient number of hair follicles is reached, hair transplantation is performed with procedures such as DHI or FUE.
What is FUE Hair Transplantation?
In FUE hair transplantation, local anesthesia is first applied to the donor area of ​​the individual. Follicles are then collected from this area. According to the Norwood scale, when the sufficient number of grafts is reached, the procedure to be performed in the donor area is completed.
Then, local anesthesia is applied to the hair transplantation area of ​​the individual to apply the other stage. After the anesthesia shows its effect, channels are opened on the scalp using the micro motor technique. Hair follicles are placed in these tiny channels as a final step.
What is DHI Hair Transplantation?
In DHI hair transplantation, a special tool called CHOI is used in all process steps. With this tool, which is similar to a sewing machine needle, the hair follicles collected from the donor area are less damaged. The local anesthesia procedure is performed first on the donor area and then on the operation area, as in the FUE procedure.
According to the Norwood scale, when the sufficient number of grafts is reached, the hair follicles are placed directly in the area to be transplanted with the help of CHOI, without opening the channel. The entire processing time is much shorter as there is no channel opening.
Norwood 6-7 Degree Hair Loss Surgical Approach On Young People
When young individuals experience male pattern hair loss, they are more adversely affected than older individuals. This is because baldness makes them look much older than they are. Fortunately, hair transplantation is a procedure suitable for all adults. The result of the procedure is permanent for life.
When the Norwood Scale grading is done in young individuals, the procedure can be easily performed up to the 5th degree thanks to the donor area determined in the individual's own body. According to the Norwood Scale, in young individuals with 6 or 7 level baldness problems, the whole process can be planned using the hair follicle production technique with stem cells.
Stem Cell Production in the Laboratory
The main task of stem cells is to repair damaged tissue in the body of the organism and to produce healthy new cells instead of dead cells. When individuals do not have enough hair follicles, it is possible to produce hair follicles under laboratory conditions with stem cells taken from their own body. Hair follicles produced in sufficient numbers are ready for hair transplantation. Hair follicles produced in the laboratory have the same characteristics as the hair follicles taken from the donor area.